Anyone who has been following my 1.8 project knows that I have had it on track multiple times and want to go down the track toy route with a cage etc. Having a cage in a 5 door would be silly so I ahve spent the past 6 months looking for a 3 door phase 3 diablo GTI6, XSI, or XS. I have been accumulating all the parts to make the track car along the way but havent had anything to fit them to. All the cars I found were either too far away or the sellers were completely illiterate and wouldnt give me any details about the car. In one case I agreed to view and was about to set off to view but thought i had better call and found out the car had sold days before but the seller hadnt bothered to tell me. 
With FCS looming and with strong cravings to get on track I made the decision to get the 1.8 back on the road which was a great task as it needed the matrix and manifolds changing. A week before FCS and the 1.8 is almost together but I also have finally got what I wanted.
After booking a trailer on friday the guy wouldnt let me take it as I didn't have a driving licence. Other companies would but didnt have trailers that day or they wouldnt let me take them as I was under 25. Dad to the rescue and with a trailer booked for Sunday we set off to Chippenham near Castle Combe. 450 miles and 12 hours later we ended up on the drive at home with the new toy...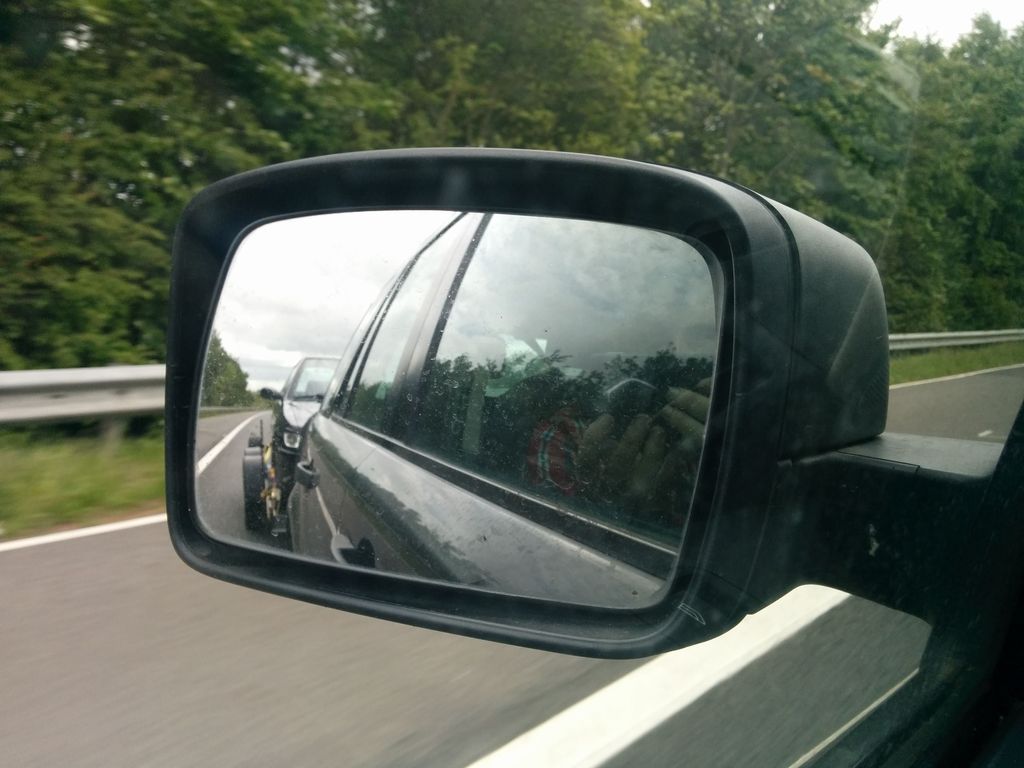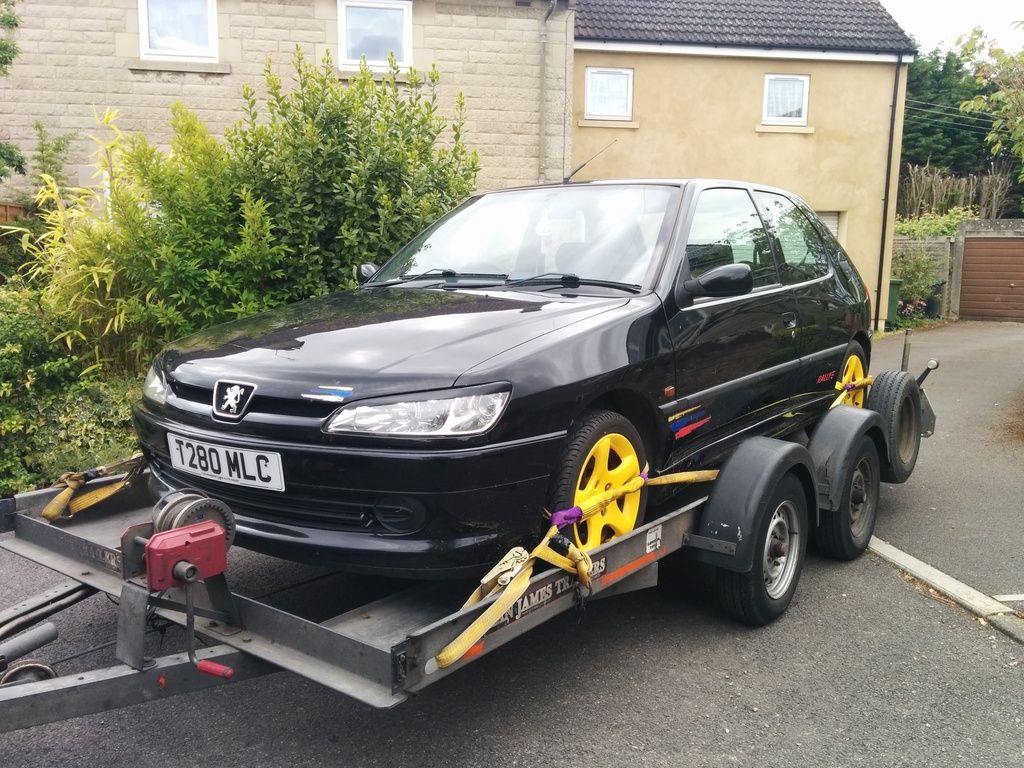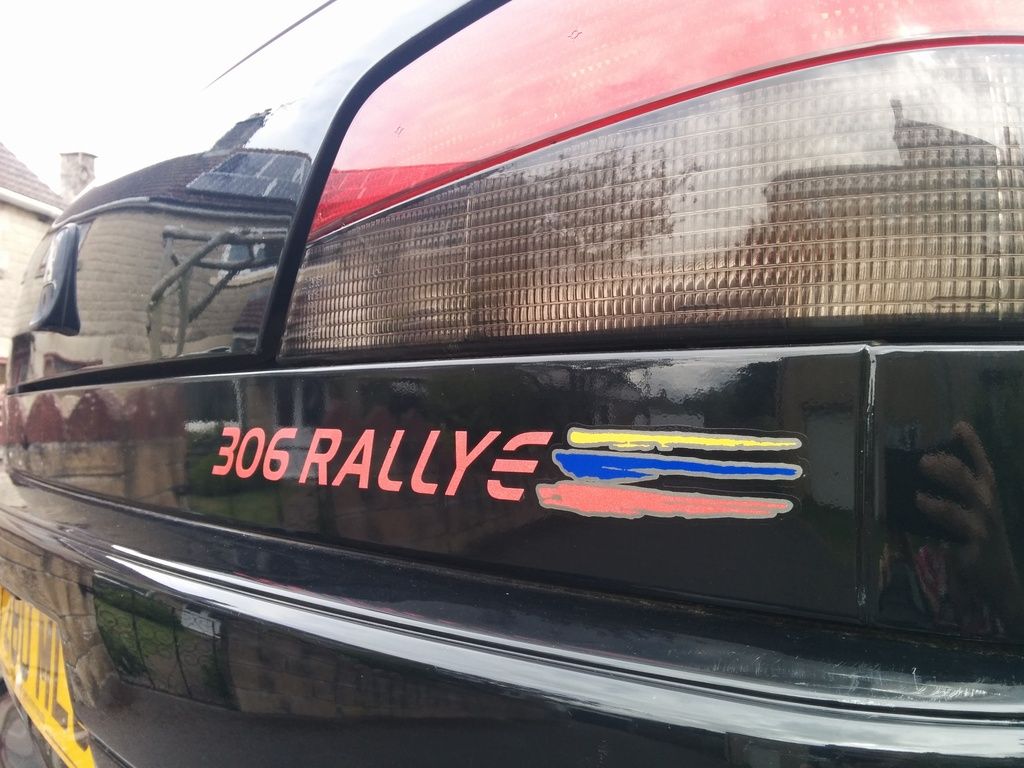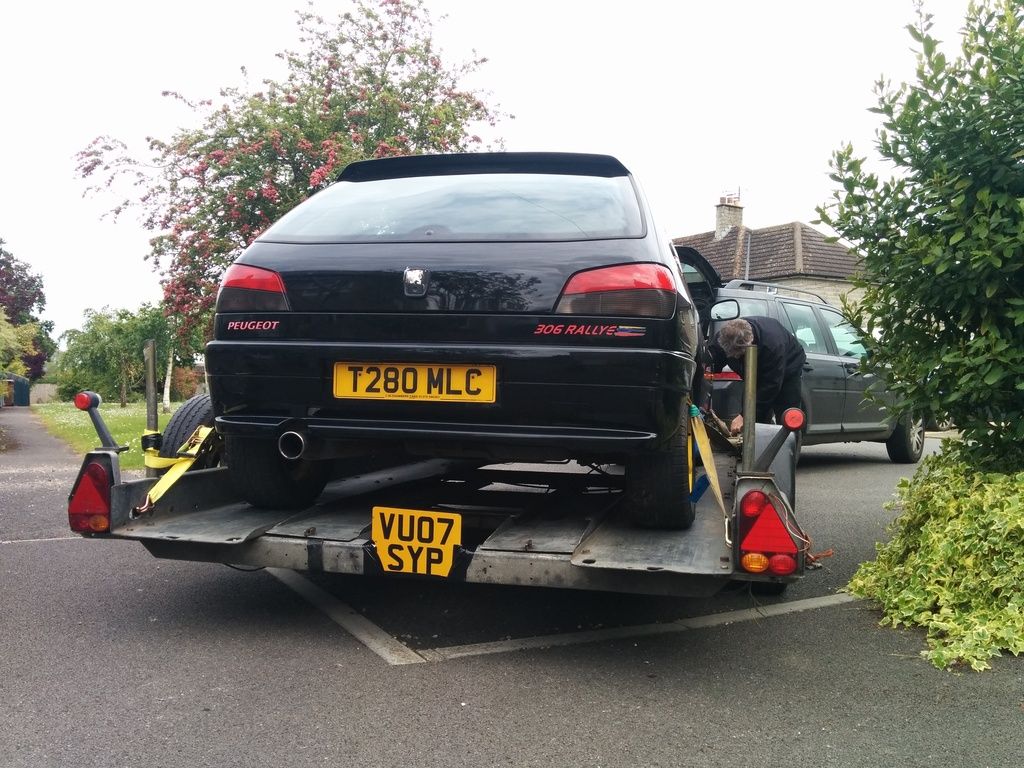 So after emptying my wallet I now have a 1999 306 Rallye. It was for sale for £800 and I knocked a bit off that. Car has a blown core plug but it seems like the seller stopped it in time and the engine seems to be okay. It drove on and off the trailer with no issues so it looks hopefully to save the engine. 
This is going to be a long term project with the aim of consolidating all my 306 goodies into one car. The estate is being scrapped asap and the 1.8 will follow once I have removed all the goodies at the end of the summer. The intention always was to have a track car so its a bit sad that this is going to be stripped but its meant to be a fast light weight version so I feel good that what I am doing is taking the cars purpose to the next level.
Car is in overall average condition. Rear beam is badly cambered on the drivers side. Under the car is alright, floor is pushed up in one place but not broken. Planning to strip the car down and paint the shell and underseal etc. Engine runs and is salvageable. If its broken Ill engine swap the 1.8 into it otherwise Ill be bolting the bodies and omex onto this. Interior needs a massive clean out and drivers bolster is ripped. Handbrake cable snapped as I pulled it on. Bonnet has a scratch across it. Various dents and paint missing in places but presentable overall. Only part that is of major concern is that part of the bulkhead is rotten. There is a patch of rust above the cross member which I pushed my finger straight through to sound deadening. Essentially I now have all the parts and Im only time, welding, cage and mapping away from a throttlebodied Rallye.
Known to do list...
Good all over clean

Fix engine

Weld bulkhead

Wirewheel underside and underseal

New Handbrake cables

Fit refurbished rear beam

Solid rear beam mounts

Fit different wheels with 50 profile tyres

Strip and seal underside.

Fit lightened fly wheel

Baker BM Engine mounts

Strip interior and fit buckets and Harnesses

Fit Cage